Cisco, Google partner to simplify hybrid cloud deployments
There should be no question that for most organizations, hybrid clouds are the way of the future. My research shows that over 80 percent of organizations either use or plant to use a hybrid cloud strategy, so it's coming and coming fast.
However, the path to hybrid clouds won't be the same for all companies. Some will be aggressive and migrate to a cloud-native strategy today. Others will be more conservative and will "lift and shift" a few applications at a time before rewriting them. There's no right answer when it comes to creating a hybrid cloud world; the key is to get there.
The challenge for many businesses is that the infinite number of paths to cloud environments leads to infinite complexity, as there are very few best practices. When Dorothy went to Oz she had a single, yellow brick road to skip down. Migrating to a hybrid cloud is like trying to get from one side of New York City to the other with no knowledge of the city or a map.
Also, in addition to being able to move to the cloud at their own pace, IT leaders struggle with creating consistency between public and private clouds. A developer might have to code one way in the private setting and then an entirely different way with a public cloud. Developer flow should be fast, simple and consistent.
Then there are the security concerns where setting up policies in the private and public environments are typically done independently. This slows things down and reduces the level of agility.
Cisco and Google hope to ease the transition with a partnership that can help businesses connect on-premises data centers to Google Cloud Platform.
Cisco brings to the table the industry's broadest networking and security portfolio, private cloud infrastructure, multi-cloud management software, a massive channel and world-class support. Google contributes a cloud platform that's far better than its share reflects, Kubernetes container orchestration, Istio service mesh for connecting and securing micro services across clouds, an API gateway, and a huge developer community.
It's important to note that this isn't the two vendors just putting a brand wrapper around some existing products. The two jointly engineered this solution to deliver an agile, scalable and secure hybrid cloud environment.
Businesses that use the solution can develop applications on premises or in the cloud using the same developer tools, as well as in the run-time and production environment, bringing a level of consistency that private clouds haven't had to date. There are other hybrid cloud offerings, such as VMware and Amazon Web Services, but those addresses scaling VMs between private and public clouds. Google and Cisco are addressing the whole stack.
Key features of the Cisco-Google hybrid cloud solution
Orchestration and management using Kubernetes and lifecycle management of resources, applications and services across the hybrid cloud.
Networking policies and configurations can be extended to multiple on-premises and cloud environments.
Extension of security policies across private and public clouds.
Real-time network and application performance monitoring and automation, improving visibility and control
HyperFlex, Cisco's hyper-converged product, can be used to support existing applications and cloud-native Kubernetes environments.
Istio-based service management. This is an open source solution to connect, secure, manage and monitor micro services. Google was one of the founding members of the platform.
API management using Google's Apigee, enabling legacy, on-premises workloads to connect to the cloud via APIs.
Cisco's DevNet Developer Center provides tools and resources for cloud and enterprise developers to connect through APIs. Also, the DevNet Sandbox provides free access to hardware and software environments, so developers can tinker and create new solutions.
The joint solution can take the complexity out of trying to migrate from legacy environments to the cloud and will significantly cut deployment times. Also, network and security administrators can create policies as if the hybrid clouds were one single environment. Developers benefit, as they can use micro services and containers wherever they like.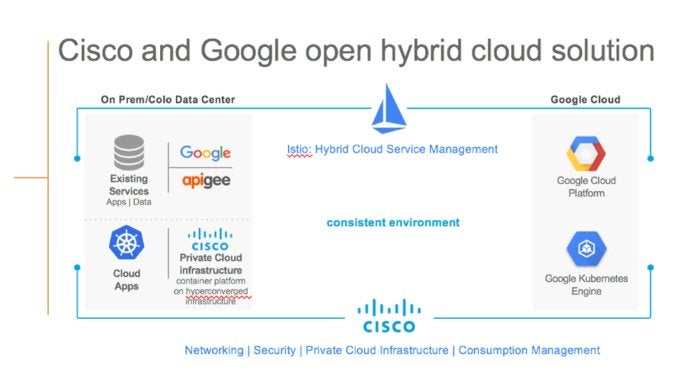 How Cisco and Google benefit from the partnership
This partnership is important to Cisco because it raises their relevancy as a cloud enabler. Many financial analysts have speculated (incorrectly in my opinion) that the cloud is bad for Cisco. If the world moved to 100 percent public cloud, that might be the case, but that's not happening. Deploying a hybrid cloud can be a long, laborious, complex process, and Cisco and Google have now made it simpler. Cisco's infrastructure and software is critical in enabling this. Also, Cisco's massive channel now has a differentiated cloud offering to create sales opportunities that are higher in the stack than the network but still leverage the network.
For Google, the partnership with Cisco gives it some much-needed enterprise street credibility. For all of Googles successes, they have completely flopped in the enterprise space. They had a huge lead over Microsoft and should have buried them, but the Redmond, Washington-based company has something that Google doesn't: knowledge of the enterprise. Cisco can bring that to Google and get customers to look at Google Cloud Platform when they may not have before.