IBM tweaks its z14 mainframe to make it a better physical fit for the data center
IBM is widening its mainframe range with some narrower models – ZR1 and Rockhopper II – that are skinny enough to fit in a standard 19-inch rack, which will answer criticisms of potential customers that the hulking z14 introduced in July 2017 too big to fit in their data centers (see photo above).
In addition to new, smaller, packaging for its z14 hardware, IBM is also introducing Secure Service Container technology. This makes use of the z14's encryption accelerator and other security capabilities to protect containerized applications from unwanted interference.
When IBM introduced the z14 last July, with an accelerator to make encrypting information standard practice in the data center, there was one problem: The mainframe's two-door cabinet was far too deep and too wide to fit in standard data center aisles.
That non-standard shape will have put a brake on sales of the z14 even as IBM was pushing its pervasive encryption capabilities as perfect for securing cloud-computing operations.
"Data centers operate at scale. So, ideally, everything they work with should be standardized. Anything non-standard interferes with the ability to scale," said Roger L. Kay, founder and president of Endpoint Technologies Associates.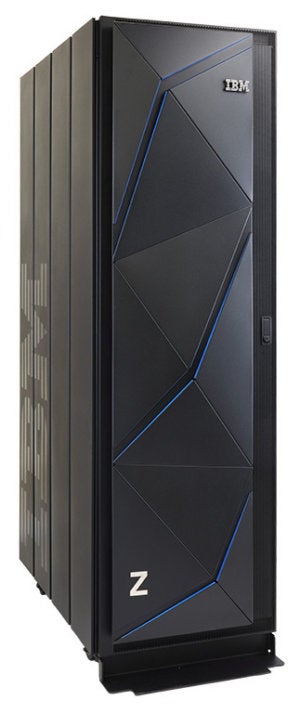 In slimming down to fit in a single frame, the z14 has had to give up some things: The rack-mounted ZR1 can have a maximum of 30 processor cores, compared to 170 in the usual two-door version, but even that could be an advantage because it makes the ZR1 price lower than that of the heavyweight one.
"The appeal of a skinny system will be in its price-performance," said Kay. "Many of the new sales will likely come from smaller firms that have not been able to afford a mainframe in the past.
For Ian Murphy, principal analyst at Creative Intellect Consulting, "It will also appeal to those cloud data centers who want a slice of that enterprise system-of -record market that IBM has invigorated with its new mainframes over the last five years." Putting the ZR1 in a 19-inch rack means it takes 40 percent less floor space than the original z14, said Adam Jollans, a program director in IBM's Systems Group.
There are other benefits too: The ZR1 specs give it 16U of space free, so storage, networking or monitoring systems can go in the same rack rather than an adjacent cabinet. And it uses standard air cooling and single-phase power, where the original z14 required a three-phase power supply, he said.
Alongside the introduction of the ZR1, IBM is also strengthening the platform's logical partitioning capabilities with Secure Service Container technology. Pop an app in a Docker container, and you can lock it down so that the only way of accessing its data once the workload is running is through defined APIs, Jollans said.
"The reason for doing that is one of the major threats to enterprises is insider attack.," he said. "You've got encryption, protection against malware, isolation from other partitions and so on, so it provides a very tight, secure environment for running workloads."
So far, IBM has been running its cloud blockchain workload in that context but is now offering it for use with generic applications. It provides protection from tampering at boot time, and full isolation between workloads for cloud service providers, Jollans said.
In addition to the ZR1, which will run IBM's z/OS or Linux, there's also the Rockhopper II, a version of the skinny mainframe dedicated to Linux.
"This is important," CIC's Murphy said, because "The concentration on Linux over the last 14 years has seen the majority of sales now specify Linux as their primary OS."
Rockhopper II, with up to 30 cores, has 50 percent more capacity and twice the memory of the single-door (but larger than 19-inch) Rockhopper, but in a smaller footprint.
If you still need the raw power of the 170 cores in IBM's most powerful mainframe, though, you'll need to find the extra floor space for last July's z14 or Emperor II.