Juniper's Cloud-Grade networking aims to deliver network agility
There should be no question in anyone's mind that the cloud era has arrived. Businesses are adopting the cloud at an unprecedented rate and by 2020, the number of cloud workloads will be on par with the number of on-premises ones.
Businesses of all sizes are turning to the cloud to help them become digital by increasing the level of agility. To be an agile business, though, the entire network stack—from the network through applications must be agile.
However, organizations are also more cost conscious than ever, so whatever solution is deployed must save money in addition to making the network more dynamic.
Last week, Juniper Networks announced its "Cloud-Grade" network offerings, which brings together carrier-grade reliability and enterprise-class control and usability to bring a new approach to how applications are secured, delivered and managed. Specifically, Juniper has brought together telemetry and machine learning capabilities from its carrier business with ease of use and automation from enterprise products.
However, instead of giving some grandiose vision of the world as it could be, Juniper is looking to solve some specific problems related to agility, such as keeping the innovation train running while controlling network costs and making the most of existing assets.
Cloud-grade introduces something called "Junos Node Slicing," which enables service providers and large enterprises to run multiple instances or Junos services on a single router. This is more than run-of-the-mill, vanilla network functions virtualization (NFV), as each Junos Node has its own administrative domain. A good way to think about this is it brings to the router the benefits that virtualization brought to servers, making the network more agile, making resources efficient and enabling organizations to deploy new services fast because no new hardware is required.
Juniper is also introducing its "Universal Chassis," which is a single platform that can run line cards from its PTX, QFX and MX series of products. Although one can't mix and match cards yet, it does let organizations standardize on a single form factor from router and switching from the data center to the network edge. A big initiative for many organizations is to simplify network complexity, and while the Universal Chassis certainly isn't a panacea to all network woes, the decoupling of the line cards from the physical chassis creates more options while maintaining homogeneity across the network.
The road to self-driving networks
The company also outlined a practical roadmap to help with the journey to a self-driving network. Companies didn't go from mainframes to PCs or token ring to Ethernet overnight, and they wont go from manual operations to self driving in one fell swoop.
Juniper's vision of an autonomous network starts with establishing baselines and automating basic tasks. The next step would be to introduce telemetry information and integration into IT infrastructure and so on until the company is able to achieve the full vision. The below graphic shows all the steps in the journey.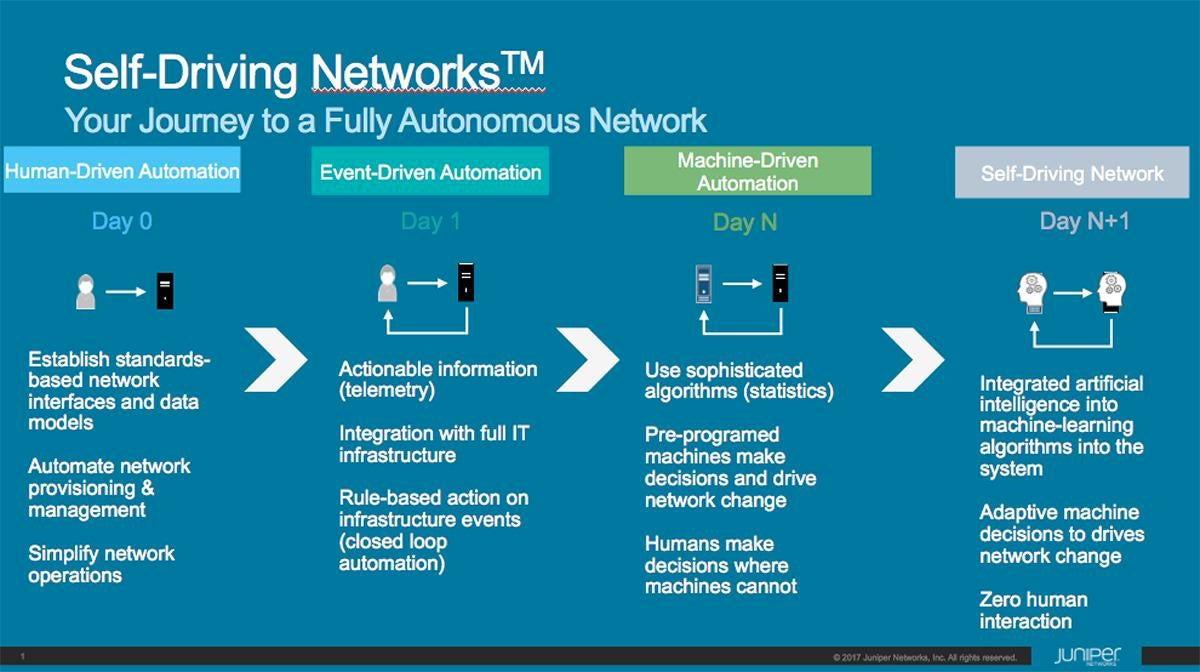 For companies that can't do this trip on their own, Juniper has introduced new professional services that can step customers through every step along the way.
Updates to NorthStar SDN Controller
Lastly, the company has introduced several new updates to its NorthStar SDN Controller that bring greater visibility to network traffic. It's very difficult for companies to manage or secure their environments unless they can see what's happening, and NorthStar can be used to monitor traffic in real time, optimize the network through analytics and provide better data for capacity planning.
Businesses will continue to accelerate their path to the cloud, driving bandwidth to unprecedented levels. Organizations that want to maximize their cloud investments should also re-think their network strategies. For Juniper customers, Cloud-Grade brings a number of new capabilities without breaking the bank.